Latest blog articles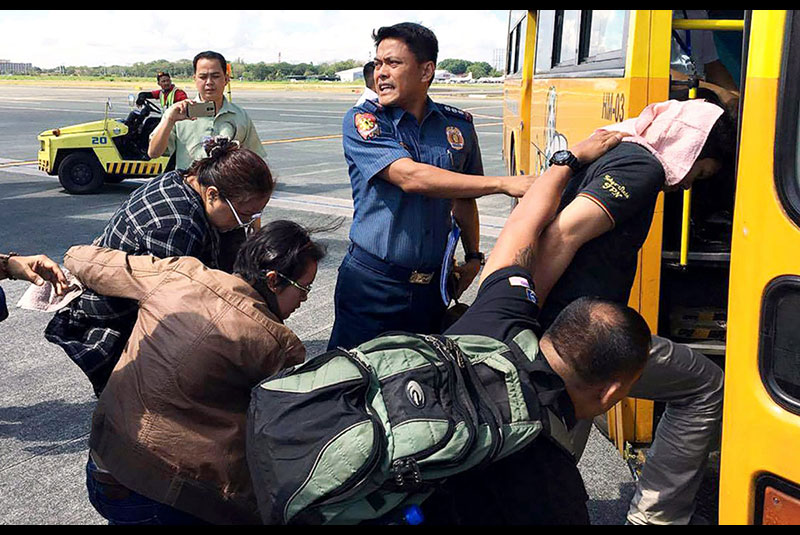 Maria Cristina Nobleza and her alleged Abu Sayyaf lover Reneer Lou Dongon were arrested together in Bohol in relation to the bandit group's plan to kidnap tourists in the province.
The STAR/Rudy Santos, File
MANILA, Philippines - Malaysian terrorist Zulkifli bin Hir, alias Marwan, had officiated the wedding of  Police Superintendent Maria Cristina Nobleza and her alleged Abu Sayyaf lover Reneer Lou Dongon.
Nobleza herself made the revelation to Philippine National Police (PNP) chief Director General Ronald dela Rosa when he went to her detention cell at Camp Crame.
"Nobleza admitted Marwan officiated her wedding. Marwan even climbed up the mountain with Dongon," Dela Rosa told reporters in a press briefing yesterday.
Marwan was killed in the controversial police operation in Mamasapano, Maguindanao in January 2015. Some 60 people, including 44 policemen, were killed during the operation.
Dela Rosa added Nobleza also confessed that she and Dongon were in Panglao, Bohol to rescue another bandit who was wounded in a clash with government troops.
He added Nobleza is a high-risk detainee and is not allowed to accept visitors.
Headlines ( Article MRec ), pagematch: 1, sectionmatch: 1
Dela Rosa noted Nobleza's claims that she wanted to help in the effort to rescue a certain Saad in order for Dongon to win back the trust of the Abu Sayyaf.
"Which is why she is helping Dongon. That is according to her," he said.
After winning the trust of the group, Nobleza said Dongon would be able to function again as one of the trusted bandits.
Dela Rosa said Nobleza appeared to be relaxed during their conversation.
He said the statements made by Nobleza will be investigated and the results made public.
President Duterte said he is leaving it to Dela Rosa "to deal with the problem in public." 
Duterte said the government has "so many things against her (Nobleza)."
"She will not be released at all. She's being held there for investigation," Duterte told reporters in Malacañang.
"It's a continuing crime and we have so many things against her," he added. 
Duterte said he was not that surprised that Nobleza is married to a suspected Abu Sayyaf bandit. He said he has allotted funds for intelligence operations to curb the threat posed by the local terrorist group.  
"Haven't I told you I poured intelligence funds there? Then you question me and connected it with extrajudicial (killing of drug suspects)," Duterte said. 
"We knew all along that  they will enter the area… We know that they are moving from one place to another," the President said, referring to Bohol.
Nobleza and Dongon were arrested together in Bohol in relation to the bandit group's plan to kidnap tourists in the province.
Nobleza, Dongon, his mother and a 13-year-old nephew were arrested after ignoring a checkpoint in Clarin, Bohol. 
Chief Superintendent Noli Taliño, director of Central Visayas police, said additional charges will be filed against Nobleza in connection with the bomb paraphernalia found on Monday night in Barangay Looc, Panglao and Malaybalay, Bukidnon.
Taliño also revealed Nobleza's marriage with Senior Supt.
Allan Nobleza has been annulled since 2010, though the former chief of the Davao Crime Laboratory still opted to use the surname of her husband. The Noblezas have two children. 
Bicol police regional director Chief Supt. Melvin Buenafe described Nobleza to be a good and effective police officer.
Nobleza, from the town of Tinambac, Camarines Sur is a technical course graduate who studied criminology. 
She entered the PNP in 1996 and was assigned to the Crime Laboratory in Camarines Sur until 2004, where she was tasked as firearms examiner.
A year later, she transferred to the Task Force Smuggling of the PNP, the Anti-Illegal Gambling Special Operations Task Force, and the Police Anti-Crime and Emergency Response Force (PACER).
In 2008 to 2011, Nobleza was assigned as chief of the Intelligence Operation Division of the Directorate for Intelligence. Later, she returned to the Crime Laboratory in 2012 and was assigned in Region 5.
In 2013-2014, she was transferred to the Intelligence group, Presidential Anti-Organized Crime Commission, and the Office of the Chief PNP.
In 2016, Nobleza was assigned to the now-defunct PNP-Anti Illegal Drugs Group (AIDG) and eventually as deputy chief of Crime Laboratory in Southern Mindanao (Region 11).
Dela Rosa earlier admitted the possibility that some lawmen, including Nobleza, may have sacrificed their lives performing their job as intelligence operatives.
But Dela Rosa said the intimate connection between Nobleza and Dongon is not sanctioned by the PNP.
Although his initial pronouncement was that Nobleza's link with Dongon had no authorization, Dela Rosa said he also ordered a deeper investigation. – With Alexis Romero