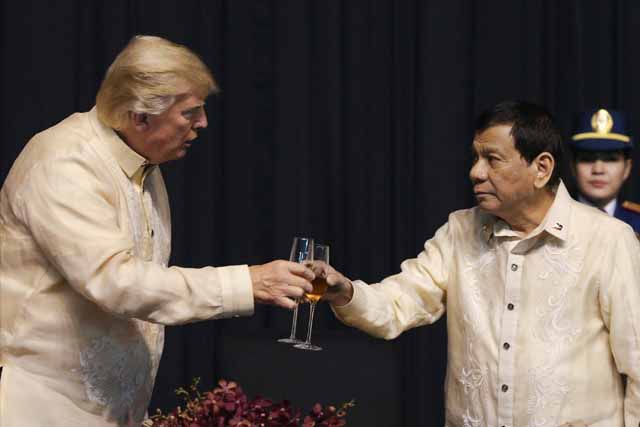 U.S. President Donald Trump toasts with Philippines President Rodrigo Duterte during the gala dinner marking ASEAN's 50th anniversary in Manila, Philippines, Sunday, Nov. 12, 2017.
Athit Perawongmetha/Pool photo via AP
MANILA, Philippines — President Rodrigo Duterte, chair of the 31st Association of the Southeast Asian Nations Summit, hosted gala celebration of the nation bloc's 50th anniversary.
Around 1,300 guests attended the Malacañang-sponsored dinner at the SMX Convention Center in Pasay City on Sunday evening. The guests include world leaders, ASEAN state members and dialogue partners.
During the dinner, guests received Filipino hospitality.
Among the highlights of the celebration was a song number from the country's president and ASEAN chair himself. He rendered his favorite song "Ikaw" by Asia's Queen of Songs Pilita Corrales after US President Donald Trump requested for his number.
#PresidentDuterte sings #Ikaw with #PilitaCorales, upon request of @realDonaldTrump. #Asean2017 pic.twitter.com/VjGCVeOeqG
— Karen Jimeno (@AttyKarenJimeno) November 12, 2017
Headlines ( Article MRec ), pagematch: 1, sectionmatch: 1
"Ladies and gentlemen, I sang uninvited, upon the orders of the commander-in-chief of the United States," Duterte said in a television report.
Meanwhile, the dinner did not just showcase Filipino hospitality but also beamed with the country's pride.
READ: Pinoy hospitality showcased at gala dinner
From the venue's interior to the leaders and spouses' national attires, to food, and cultural performances, the Philippine-hosted dinner displayed the rich and colorful Filipino culture and heritage.
Male world leaders wore barong while their spouses wore modern Filipiniana made by top Filipino designers Rajo Laurel, Albert Andrada and Randy Ortiz. 
The guests were also served four-course Filipino-Asian dishes by renowned chef Jess Sincioco and the Sofitel Philippine Plaza.
The appetizers include ensaladang ubod at alugbati (heart of palm and Malabar spinach salad) with tamarind vinaigrette dressing and sinigang na maya-maya sa miso (soured red snapper in miso broth).
The guests also feasted on the following: bistek sushi (slices of grilled US Black Angus beef tenderloin marinated in soy-calamansi) with sushi rice and caramelized onion rings served on grilled eggplant and Asia salad or charcoal grilled apahap fillet with tomato-mango sambal for the main course.
I'm proud that the #ASEAN2017 #GalaDinner hosted by the #Philippines is tasteful but not extravagant :) pic.twitter.com/4UgR7Qv2V6
— Karen Jimeno (@AttyKarenJimeno) November 12, 2017
While the guests and leaders socialize in a rare event, they were also entertained by Filipino and Southeast Asian performers.
Duterte's supporter Freddie Aguila sang his signature song "Anak." Other local singers include Asia's Nightingale Lani Misalucha, Jed Madela, Jonalyn Viray, Darren Espanto, among others.
The president offered a toast for the "unity, centrality, solidarity and continued success" of ASEAN during the gala dinner.
Duterte received praises for his warmth hosting of the celebration gala dinner.
RELATED: US envoy lauds Philippines' hosting of ASEAN's 50th anniversary